Future Developments and Projects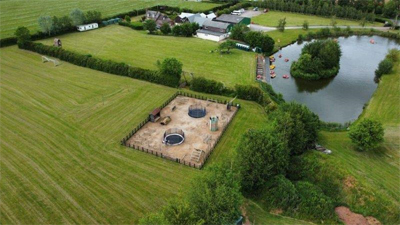 We have a number of projects on the go that we consider essential to the development of TRAC, but we also have a 'wish list' of projects that we will approach if specific funding becomes available. Many of the projects listed below will only come to fruition with specific funding or support so if you would like to become involved with any of these, either practically or by helping to fund the projects, then please get in touch.
As improvements continue to be made to the existing facilities, and with new additions coming online soon, TRAC seeks to enhance the visitor experience across the board. Projects that will be completed in 2022 include the new portal barn, providing much-needed workshop and storage space for the machinery and tools required to maintain the centre, and the new lodges being built, which will increase the amount of indoor accommodation available and add versatility to the mix. We also hope to re-introduce the A-Frame swing that proved popular in previous years.
The items mentioned below are not a definitive set of detailed plans, nor are they listed in priority order, and instead seek to highlight some of the possibilities for improvement that we have: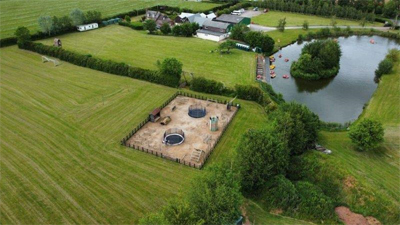 Our primary focus at the moment is to increase the available indoor accommodation facilities, and to this end we have started a longer-term project to install the first of 8 – 10 new wooden lodges or cabins that will surround the camping field. The first lodge will be laid out as a leader's lodge with 2 beds in one room, a sofa bed and kitchen diner in the next and a shower room. The rest of the lodges will be kitted out with bunk beds and a toilet and sink to avoid the need to go to the toilet block at night. These lodges will not contain a shower. When they are all complete the available indoor accommodation will increase from the current 41 beds to well over 120. It is an exciting prospect, and we continue to pray that the financial provision for the plans increases to allow these new facilities to be built as soon as possible.
With the opening of our new purpose-built heated toilet and shower block for campers the options for large scale camps have improved. As numbers increase, we will look at developing additional facilities as required. This includes expending the dining room (See Below).
The TRAC Conference Centre / Meeting Room is a popular but underutilised facility. It has a a built in 16 + 4 PA system and drop-down screen and high-resolution projector and an official capacity of 156 seated or 214 with part standing. We would like to add a new block at the front of the site in between the accommodation and the sports barn and to the North of the Conference Centre that will contain a new purpose-built Office / Reception area and a small toilet block. This will allow us the option to offer the conference area to one group for meetings, activities or training sessions whilst at the same time by prior arrangement a separate group have use of the rest of the main site.
The Event / Sports Field to the east of the main gate currently hosts a full-size and 9-aside football pitch and the summer archery range. It is hoped that we can develop links with organisations to use this as an event field so that large scale Christian events can be hosted here. This could be used in isolation (i.e. at the same time as the rest of the site is used by others) or it could be linked in with the rest of TRAC to provide a unique event venue that provides indoor and camping facilities, cooking and dining facilities, and all the adventure activities including too. We would love to see a 'Soul Survivor' or 'Greenbelt' or 'Keswick Convention' style event grow to maturity here.
With all the other planned expansion we have planning permission to extend the existing dining room to make room for more than 100 guests. We would also like to consider the possibility of building a brand-new purpose-built kitchen dining facility for a minimum of 150 guests and repurposing the existing dining area as a lounge with the existing kitchen becoming another bedroom. The costs and practicalities of this make for an interesting proposition but it would improve our 'future proofing' ability.
We would like to extend our outdoor adventure and games facilities and various options are being considered including a properly laid out Frisbee Golf course and crazy golf. We also want to work with local partners to offer package deals at local attractions rather than duplicating facilities.
Although TRAC is essentially accessible by the disabled it is not yet complete and we are planning on finishing the existing ramps and fixing other access difficulties soon. Once complete we will be registering with disabled organisations so that we can be assessed for our accessibility.
As an outdoor site that is affected by the weather, we occasionally have issues with getting around the site on foot when the ground is wet. We hope to address this issue by adding pathways between the major areas. These are currently planned as hardened wood chip paths.
We already have a Peace Garden with open air as well as covered seating areas for people to get away from it and rest or for quiet prayer. We would like to have a 'Prayer Trail' around the site that people can follow and spend time at each location along the trail. Sponsored benches and covered areas will be required for this. Details will follow in due course.
As the Peace Garden is only a short distance from the road there is an aspiration to build a solid fence on the far side of the hedge that will act to block out some of the road noise.