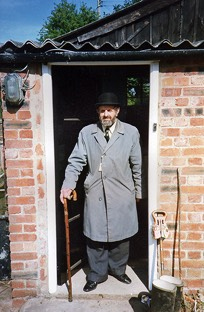 Since 1968 over 50 camps for young people have been held at various centres around the country. These camps were called Challenge Camps and the leader was Irving Winson. Because of the difficulty of finding suitable venues each year we began searching for a site of our own. The old chapel at Hoarwithy was proposed because Christian farmers owned the land down to the River Wye. However, whilst the site was ideal, the noise level would have been a nuisance to the neighbours as it was surrounded by houses.
Tom Roberts was involved at this time, as he owned the land by the river and had attended the chapel. He kindly took us to other possible sites, but none were appropriate. Then in 1992, Tom, as the owner of Yates Farm, Malswick offered us the use of his farm. Tom and his wife Ivy were unable to have children of their own but they always wanted to help young people. One day when Mike Hencher was helping Tom with bales of hay, Tom said he would give the farm to him in his will as a campsite. Mike had a charitable trust of his own that he thought would be the right way to proceed regarding the inheritance.
As other trustees were appointed it was thought that a new charity be formed called The Tom Roberts Adventure Centre Ltd, which would become a memorial to Tom and his wife Ivy. So in 2001 TRAC was created and, when Tom died in 2004 the farm was bequeathed to the trust. Since then, extensive work was done on the farmhouse so that John and Angela Ettle, our first Centre Managers could move in.
John and Angela worked on a pro bono basis until the end of 2017 and we are very grateful for all they did to get the project off to a solid start. Dormitories and the Sports Barn, with its Chill out Zone, were built by volunteers, together with a Conference Hall and a new Toilet and Shower Block. New Centre Manager, Sarah Burtwell, was appointed in early 2018 and remained in the post until Covid changed things and she and her husband Paul decided to move on to new pastures. The latest addition to the team has been Douglas and Anne Bennett who joined us in June 2021.
The Farmhouse...